انت هنا : الصفحة الرئيسية » المنتجات » كلامب استروك » كلامب استروك رأسي التحميل
---
| | |
| --- | --- |
| Vertical Lifting Clamps | كلامب استروك رأسي التحميل |
كلامب كباش استروك رفع و تحميل الصاج بشكل رأسي واحد من كلامبات رفع الصاج فيستخدم فى رفع الصاج بشكل رأسي
و يطلق عليه ايضا : كلامب استروك - كلامب صاج رأسي - استروك صاج رأسي - استروك رأسي - كلامب رأسي
---
Vertical Lifting Clamp​

Product Information

Capacity: 1 To 10 Ton
Standard design clamp for vertical lifting of steel plates and steel structures.' The spring-loaded tightening lock mechanism assures a positive initial clamping force.
Clamp are equipped with a safety mechanism,ensuring the clamp does not slip when lifting force is applied and when load is being lowered.
The clamp is locked in closed as well as in open position.
High frequency quenching of die -forged special alloy steels gives greater durability to the cam.
---
---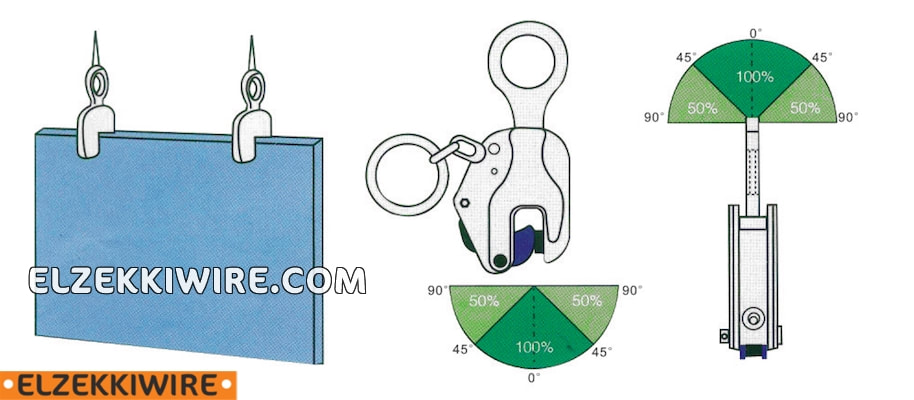 ---
Vertical Lifting Clamp
* Suitable for lifting steel plates and structure steels in vertical position.
* It is manufactured by low-carbon hi-quality alloy steel forging.
* Always must be used in pairs.
* Each plate grip is subject to test load at 2X rated load capacity.
* Don't overload to use.
* Please read owner's manual before using the clamp.
---
سلك واير صلب|روافع الجنزير|جنزير صلب| صباني واير| لجز جنزير| صباني حرير|ترصيص واير|بلانكو جنزير| راتشة جنزير|بكارات| واير قماششركة عبد السلام ابراهيم الزكي ( محمد حبشي الزكي ) - رقم 6 شارع الحاتمي - بالقرب من قسم شرطة مينا البصل - الأسكندرية - مصرالموبايل : 01222173114 - 01154001702 - 01154001701 - 00201154001700Web Site : Www.ElzekkiWire.Com |Email : Elzekki.Wire@Gmail.Com
---
ELZEKKIWIRE For Trade Steel Wire Rope And Lifting Equipment's.
Steel Wire Rope - Steel Wire Rope Sling - Steel Wire Rope ​ Hydraulic Pressing Machine - Wire Rope Hoist - Aluminum Ferrules - Stainless Steel Rigging - Load & Lifting Chain - Flat Webbing Slings - Steel Chain Sling - Chain Block - Lever Hoist Lifting Clamps - Ratchet Straps - Cargo Lashing - Snatch Blocks - Shackles​ - Hooks - Ropes.
For More Information You Can Contact Us By
Elzekki.Wire@Gmail.Com
Or Call Us At
+201154001700
-
+201222173114
---